Activities around Lake Charm
The Lake Charm Region is a hidden Oasis with so much to see and do. It basks itself in environmental beauty and extends itself to the recreational delightswith the townships of Swan Hill and Kerang having so much to offer, with many local eateries, an exciting retail hub and the Mighty Murray River.
Level of Importance: National Directory
Description: Permanent open freshwater Wetland.
Size and Level: Lake Charm is 520 hectares in size and holds around 22,000 mega litres of fresh water.
Recreation: Fishing, Water Sports, Relaxing.
As a matter of interest Lake Charm is listed as part of the Kerang Wetlands Ramsar Site under the convention on Wetlands. (Ramsar, Iran 1971) which aims to promote and protect wetlands throughout the world.
A Bird Watchers paradise: Royal Spoonbill, Black Tailed Native Hen, Coot, Ibis, Sea Eagles, Pelicans, Parrots, the endangered Grey-Crowned Babbler are just a few of the many birds that you will find around the area.
Events
Kerang Rotary Club Art Show – Annual Event
Dance weekend memorial hall the 4th week end in July
Bowling Tournaments
Annual Show October
Easter Tennis Tournaments
Kerang Turf club Easter Saturday & Boxing Day
Kerang Country market every 4th Saturday
Murrabit market 1st Saturday every month
Australian Tractor Pull Quambatook – Easter
Swan Hill Australia Day Big Breakfast Monash Drive Swan Hill – Celebrating 30 years. 5036 2361
Water Ski racing Victoria, to check calender dates click on the image below.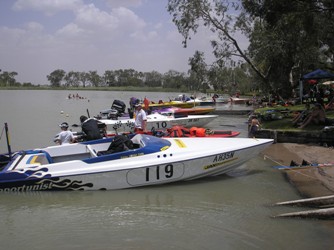 Attractions
Bogartz Glass Studio Murray Valley hwy Lake Boga
03 50372428 or 0400 123 962
Observatory and Planetarium Lake Boga Murray Valley hwy 0350372482 or 0400 123 962. Bookings Essential.
State Forests
Lakes Streams & Marshes.
Ready Lake Swimming Beach Apex Park.
Salute Oliva – www.saluteoliva.com.au
3 Templeton Drive Boort Ph:03 5455 2652
Group Bookings
Ibis Rookery
Brown Brothers Vineyard Mystic Park
Established in the 1960's.
Date Brothers Wines – www.datebroswines.com.au
Lake Boga Flying Boat Museum Ph 03 5037 2850
Ten Pin Bowling Kerang 03 5452 2323
Kerang Warm Water Exercise Pool 03 54503350
Redgum Works In Kerang 03 5450 3363
Historical Museum Riverwood Drive Kerang.
Along the Murray Valley Hwy look out for the Seasonal road side stone fruit stalls citrus and Veggies.
Information Centre and Lester Smith Lookout Sir John Gorton Library Murray Valley Hwy Kerang. 035452 1860
Restaurants
Java Spice (Thai) Swan Hill 03 5033 0511
Quo Vadis (Italian) Swan Hill 5032 4408
Swan Hill Club (Modern Australian) 5032 2060
Live Entertainment every Friday Night
Kwong Ling (Chinese) Kerang 5452 2725
Royal Hotel Kerang 5452 1063.